Urgent! Please sign for Pollard!
Justice4JPnews - May 29, 2014


Everyone is welcome to sign the Pollard Petition! Please share this message!
Instructions for English Speakers to sign the Petition for Pollard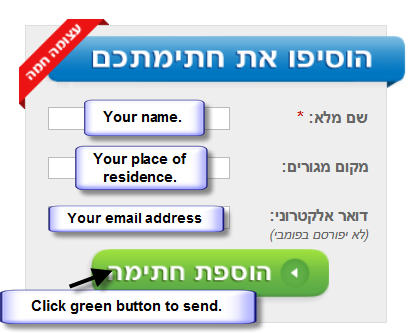 The English text of the petition follows below the Hebrew text online.
The signature box (see image above) is at the top of the page on the left. It has 3 lines.
To sign in English:
On the first line:

Type your first and last name.

On the second line:

Type your location (e.g. Jerusalem)

On the last line:

type your email address (it will not be shown)
Click the oval-shaped green "send" button to send in your signature.
Thank you and G-d bless!
---